Sign Bar is a brand-new, completely immersive bar experience located in east Austin. What started as a passion project of collecting deserted yet legendary bar and restaurant signs evolved into a desire to preserve the history of an Austin forgotten. In collaboration with local artists, sign makers, interior designers and fabricators, we created a concept not only unique to Austin and Texas but the country as a whole which memorializes our beautifully weird city's foundational roots.
One of Austin's premiere reservation only speakeasies, Midnight Cowboy offers unique craft cocktails in an intimate low key environment. With hands on table-side service, each table has their own personal guide on the full cocktail journey. Originally a brothel masquerading as a massage parlor, the space celebrates its provocative past and gives patrons an experience to remember.
The Fieldhouse serves as the cornerstone of an up-and-coming destination in the heart of Cedar Park– The Crossover. The Crossover is a sports and entertainment complex that boasts two ice rinks, a soccer field, batting cages, an arcade and several other retail outlets. The Fieldhouse offers a sand volleyball court and two full size pickle ball courts. With a large stage overlooking the immense outdoor lawn space, The Fieldhouse is a great space to bring your friends and family to enjoy live music, outdoor cinema, sports or to host your next event.
Dive Bar is a welcoming neighborhood bar just south of the University of Texas campus and within walking distance of the state Capitol building. The newly renovated beer garden patio provides an inviting and unpretentious atmosphere to enjoy a drink with your coworkers or catch up with an old friend.
Stagger Lee, the man, was immortalized as a character and etched into folklore in the classic Lloyd Price song covered by such luminary musicians as Woody Guthrie, Taj Mahal, The Clash and Bob Dylan. The song tells the story of a night out gone wrong when an argument between drinking buddies turned violent. The bar depicts a light hearted retelling of the events with murals surrounding the venue and a police lineup wall for guests to pose as outlaws. Nestled on historic Rainey Street, the venue is in the heart of a bustling nightlife district that has become a destination for tourists and locals alike.
Dumont's Down Low feels like a piece of Austin's history. The unique basement bar located in the heart of the historic warehouse district offers an expansive selection of rare and unique whiskeys. Originally a 19th century brothel, the building is rumored to be haunted by the ghost of renowned madam Sallie Daggett. Dumont's is the ideal speakeasy to take a first date and cozy up with a craft cocktail.
The original location of Lavaca Street Bar opened its doors in 1989. Over the years, it has established a legacy as one of Austin's premier sports bars. Along with its longstanding food partner, Turf N Surf, Lavaca Street Bar provides a classic atmosphere where fans of any kind can watch their favorite team or celebrate with friends.
Following the success of locations in downtown and north Austin, Lavaca Street Bar opened its South Lamar location in late 2016. Lavaca Street Bar provides a great atmosphere to catch all of your favorite sports on one of its 23 televisions. With rotating taps and ongoing drink specials, Lavaca Street Bar South Lamar is a great place to enjoy the game!
Lavaca Street Bar opened its second location in the Domain Northside's Rock Rose Entertainment district in 2016. Building off of the reputation that had already been established at the original downtown location, Lavaca Street Bar in the Domain, has become a mainstay in the Austin sports bar scene and is a place where folks can cheer on their favorite team or relax on the Rock Rose patio.
Established in 1995, Star Bar is the original West Sixth Street bar. Over the years, Star Bar has retained its status as a neighborhood bar still welcoming a lot of its original clientele. The bar has three great patios and an intimate interior space flanked with familiar faces. The front patio is great for people watching, and the back patio is a hidden gem that is the perfect place to watch the game or enjoy a slice from our food partner, Via 313.
Mean Eyed Cat has humble beginnings as the space once served as a chainsaw repair shop in a small outbuilding on the edge of Clarksville. As the neighborhood built up around it, the bar kept its well worn charm with a rustic and nostalgic interior adorned with chainsaws and memorabilia in celebration of the man in black himself– Johnny Cash. Named after a famed Cash song, Mean Eyed Cat is festooned with portraits, posters, and song lyrics. Featuring an excellent draft selection of local and craft beers in addition to a creative cocktail list, patrons can enjoy the interior space – a homage to the great Johnny Cash – or the open wood patio sheltered under an immense 300+ year old Texas Live Oak.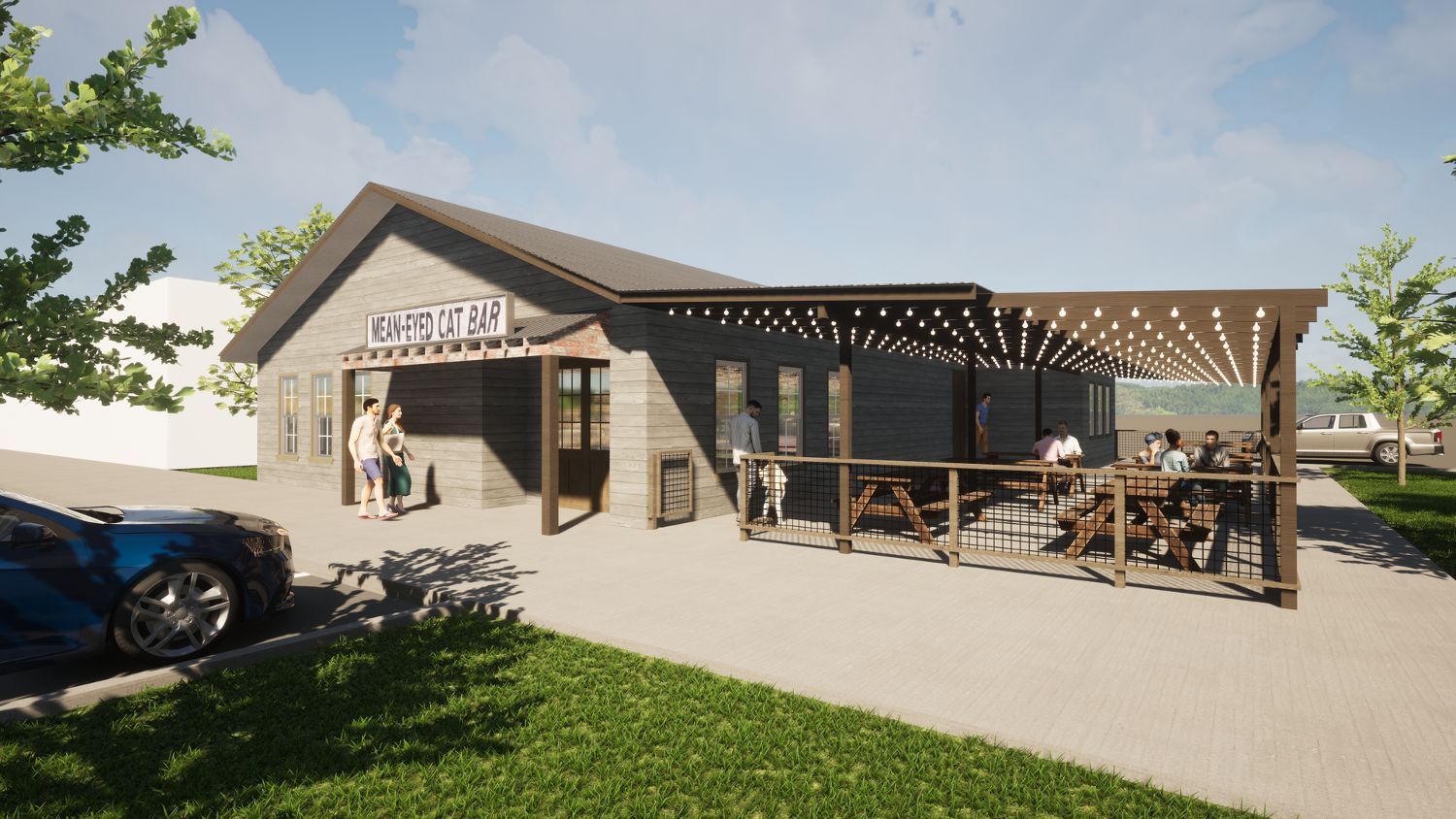 The Wheel was established in east Austin in 2015. Although small in square feet, the bar has cemented itself over the years as a top-tier neighborhood bar. The venue has made the most out of its space by extending its outdoor seating into a welcoming patio with a tap fountain, raised bed planters, fans to cool off from the Austin heat and with the flexibility for enclosure for our brief central Texas winters. The unique and innovative cocktail program and unpretentious attitude provides a great space for happy hours or enjoying a drink after a long day at work.
Nestled amongst several acclaimed restaurants in the heart of South Austin, Gibson Street Bar is a casual full-service lounge offering a unique wine program and reasonably priced beer. The back patio overlooks the treetops where you can relax with a great bottle of wine or a cocktail with your friends. Known for its over the top holiday takeovers, Gibson is a destination for any occasion.
A beloved Austin institution, Lala's was originally founded in 1972. For decades, Lala's Little Nugget has been Austin's favorite Christmas-themed bar as it celebrates the holiday season all year long. The walls are adorned with twinkling lights, boughs of holly and even Santa and his reindeer have a permanent perch atop the Lala's rooftop.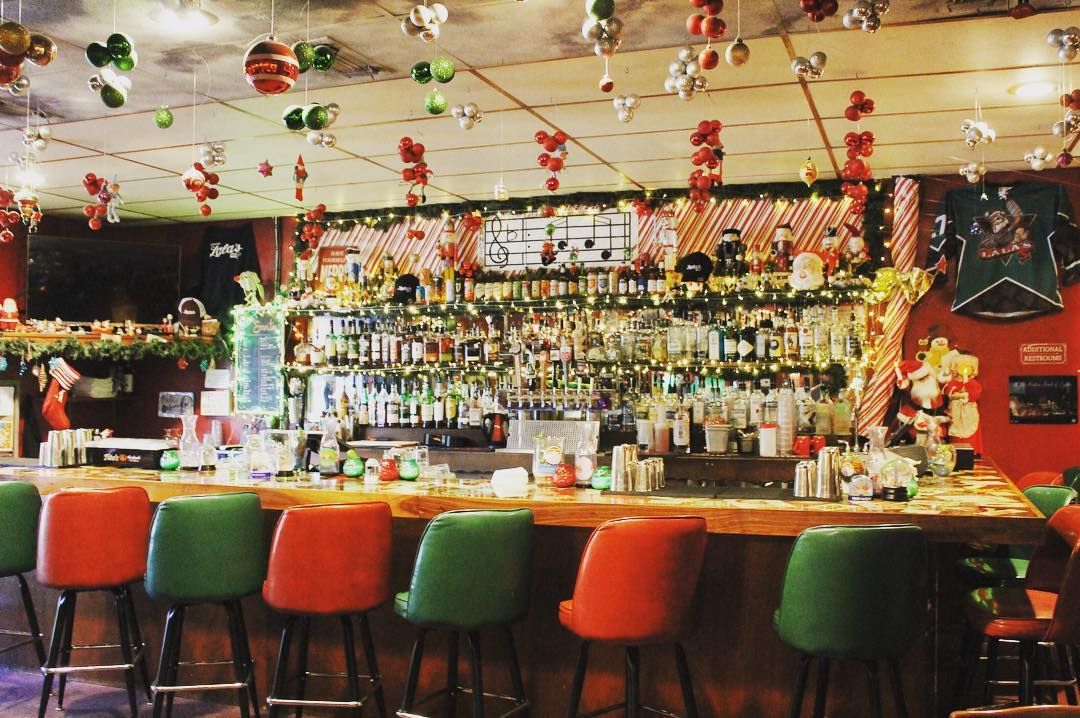 Cain & Abel's has been a part of Austin and UT's West Campus since 1991. The original location was located at the corner of 24th Street and Rio Grande & closed in April 2023. The new home of Cain & Abel's is located just two blocks west to 907 W 24th St.
Enjoy a plethora of beer on tap, our famous teas and a full bar while hanging out with friends at the hottest restaurant patio in West Campus.